The Columbus Veterans Beneficial Board salutes some Columbus area veterans who served their country.
Please contact us if you would like to submit a photo of a Columbus Veteran.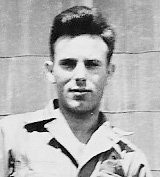 Gail Eastman
United States Army
June 1941-October 1945
World War II – North African/European theatres
Earl Jones
Private 1st Class
US Marine Corp, 1942-1945
Fleet Marine Force Pacific. Fifth Amphibious Corps. WW II Island invasions Saipan, Tinian, Iwo Jima
James Verne
Captain
US Army, 1999-present
Baghdad, Iraq 2003-2004
705th Transportation, 3rd Division
Lindsay Swain
Gunners Mate
US Navy, 1940-1946
Survived the sinking of the U.S.S Oklahoma, Dec. 7th, 1941 Pearl Harbor.
David C. Jones
Corporal
US Marine Corp, 1966-1969
2nd Battalion 9th Marines. (CAP) Combined Action Platoon Vietnam 1967
Jacob "Jake" Brewer
Command Sergeant Major (E-9)
US Army
Combat Medic in Korea
Known as "Mr. Veteran"
David T. Caldwell
Staff Sergeant
US Army Air Corps, 1942-1945
Bomber Crew, 5th Air Force
380th Bombardment Group
WWII, Pacific Theater
Frank Kamer
Seaman 1st Class
US Navy, 1944-1946
Gunner's Mate on a Patrol Boat
WW II Pacific Theater
Andrew J. Black
Master-at-Arms
1st Class (SW) USN, 1991-present
"2009 Sailor of the Year" for the Region of Japan
Harbor Security Leading Chief Petty Officer for Commander of Fleet Activities Sasebo, Japan
Gil Prince
Chief Master Sergeant
US Air Force, 1954-1980
Senior Enlisted Advisor to the Wing Commander at Rickenbacker AFB.

Daniel J. Petrosky
Lieutenant General
US Army, 1966-2005
Command and staff positions in Vietnam, The United States, Europe and Southwest Asia. Brigade command of 4th Brigade during Desert Shield and Desert Storm. Commanded the Eighth Army and served as Chief of Staff of United Nations Command, Republic of Korea/United States Combined Forces Command and United States Forces Korea. Chief of Staff, headquarters United States European Command.
Greg Lashutka
Lieutenant
US Navy Reserves, 1966-1971
Officer Specialty: Underwater explosive ordnance disposal. Former Mayor of Columbus 1992-1999.


Warren Motts
US Army, 1959-1968
Founder and director of Motts Military Museum, Groveport, Ohio. Head of Photography for the 37th Infantry Division. Appointed to The Columbus Veterans Advisory Board by the Mayor of Columbus. Appointed to Board of Trustees for the National Center for Civil War Photography. Elected to Board of Directors for Mil/Vets and The Veterans Memorial Columbus. Many awards and honors including, The Veterans of Foreign Wars for meritorious and distinguished service in furthering the aims and ideals of The Veterans of Foreign Wars of The United States.